Comfortable, durable and created with great attention to detail, felt wool slippers for women are the epitome of handcrafted luxury. Made from the finest Australian wool using time-tested traditional methods, felted wool slippers are the perfect indulgence for yourself or someone you love. Read on to learn all about the benefits of this practical and convenient footwear solution.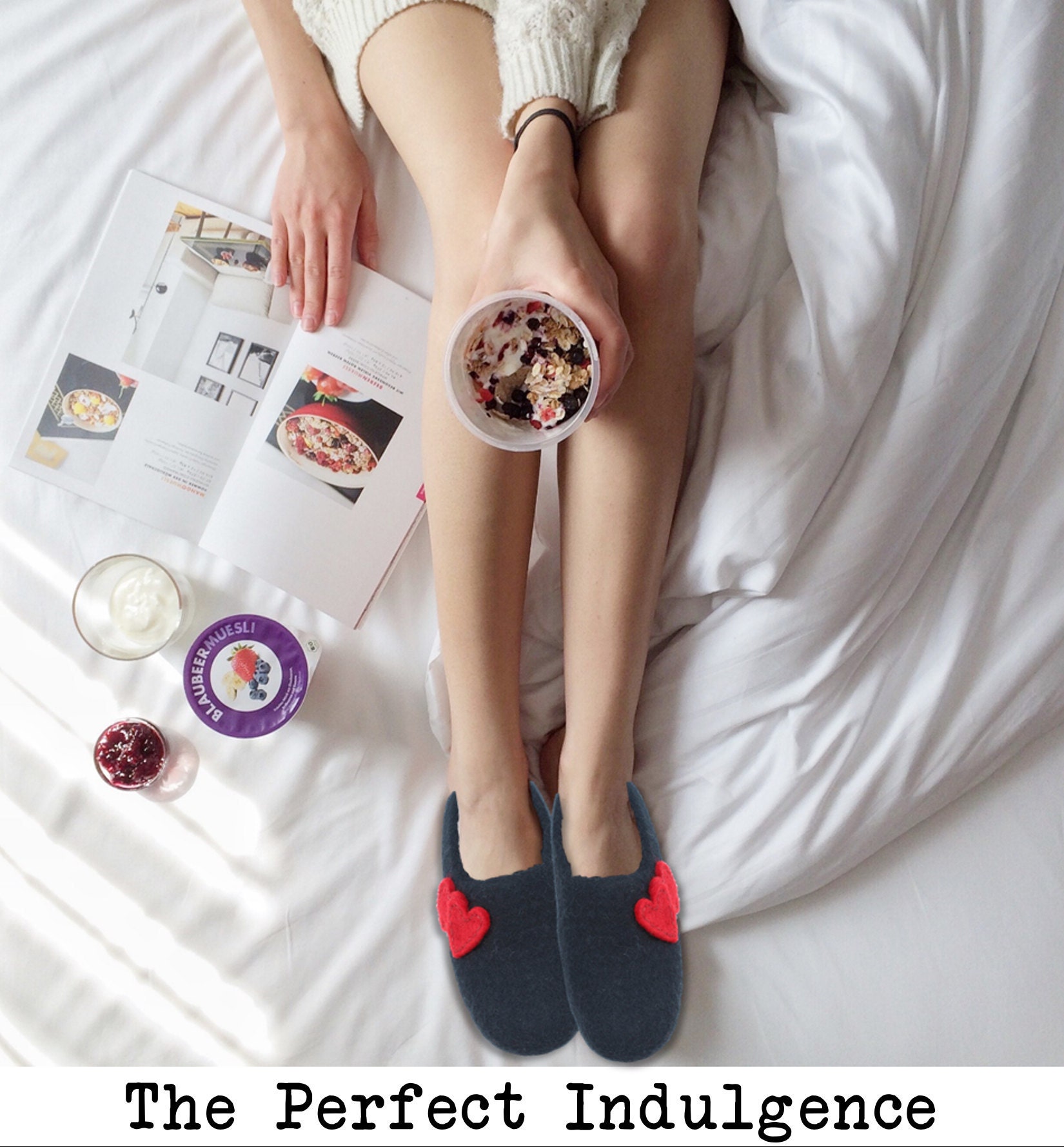 Why you should choose felted wool slippers
Did you know that felt is one of the oldest man-made fabrics?
According to legend, while fleeing prosecution, Saint Clement and Saint Christopher stuffed their sandals with wool to prevent blisters. The sweat from their feet mixed with the wool to form a soft, matted fabric that is very similar to felt. We do not know if this story is true or not. Nevertheless, it indicates the rich history of storytelling associated with this traditional fabric. To this day, the charm of felt wool garments and footwear continues to impress generation after generation.  Felted slippers have an irresistibly rustic touch and feel that it is difficult to pass by. These handmade slippers for women also offer the following advantages.
Sturdy and hold shape: 
Unlike fleece and cotton that are flimsy and shape-shifting, felted wool is sturdy and keeps its structure. Nevertheless, felted wool slippers for women are soft and extremely comfortable.  
Sustainable: 
Made by hand from 100% natural wool, felted wool slippers are eco-friendly and skin-friendly. Their construction involves minimum processing stages and the slippers contain no artificial colors or dyes. With every part of the slipper being made natural, it is 100% bio-degradable. At the end of the use, you can even bury them in the garden and the wool fibers along with leather will release nitrogen overtime and disintegrate completely giving food to worms and nutrients for the plants. Felt wool slippers for women from Farmer Soul use azo-free eco-friendly dyes and pose no allergy or health risks for users.  
Suitable for all-year use: 
If you thought that felt wool slippers were only meant for winter, you are mistaken. Wool is a breathable fabric with excellent moisture-wicking properties. Hence, it can absorb sweat and cool down your feet even when the weather is warm. So, felted wool slippers are the ideal indoor footwear choice that works in every type of weather.
Aesthetically pleasing: 
At the end of the day, when all you want is to relax your feet, you deserve a soft and fuzzy pair of slippers. Felted wool has a natural, organic charm that easily beats the polished finish of synthetic fabrics. This fabric doesn't fade over time. Felted wool slippers for women are instantly welcoming due to their soft and pleasing colors and cute embellishments that add charm.  After a long day of adventure and hard work, your feet deserve to rest in a beautiful pair of slippers that are carefully custom-created to deliver joy and relaxation. Felt slippers for women from Farmer Soul bring together the tradition of felted wool crafting with modern functionality.  Step into these luxurious slippers from Farmer Soul and experience the difference. Not only will it uplift your mood and help you feel amazing, but you will also enjoy the benefits of a superior piece of footwear that gives your feet the tender care they deserve.